In Asia Pacific 75% of the executive search profession see globalisation and the increased mobility of talent as an opportunity.
Bullhorn, the world's largest provider of software services to corporate recruiters and the recruitment industry, and our own software supplier, regularly produce industry insights via their "Global Recruitment Insights and Data" website.
As always, the recruitment and executive search industry had strong growth expectations for 2019, with as many as 23% of surveyed firms expecting revenue increases of 25% or more. The general growth in the industry across the developed economies of the world has, so far, broadly met these expectations.
However, it was some of the other findings in the survey that caught our attention. As the major economies grow, with unemployment relatively low and salary growth relatively stagnant, talent sourcing for executive search firms was the number one issue. For those hard to fill vacancies that Executive Search firms are often tasked with, 36% of executive search professionals saw the engagement of valuable candidates as a key priority.
The report also looked at some of the business factors driving executive search. Of these, the embracing of digital transformation was a priority for 31% of employers, with brand development and marketing closely behind at 30% and client relationship management on 24%.
There is no doubt that employers are nervous about how the rapid change in digital technology is going to impact their relationships with their customers as all of these factors are closely aligned with that issue. Digital transformation, often seen as the domain of marketers, now has the potential to touch almost every aspect of the business. See www.1stworld.com.au for an advisory example.
Executive search firms are often tasked with some of the most challenging placements and have faced significant issues in terms of talent shortages, accelerating pay at the executive level but also high churn rates among executives which can have an impact on how frequently replacement guarantees need to be called in.
In Australia New Zealand, Diversity and Inclusion has emerged as one of the key factors.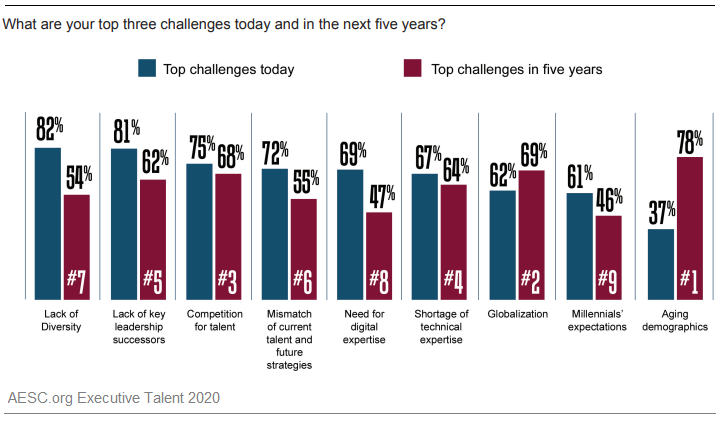 Our last post looked at the internationalism of the executive search profession. In Asia Pacific 75% of respondents see globalisation and the increased mobility of talent as an opportunity, 45% of respondents in the UK, where Brexit was a predictable issue, see millennials as the most difficult audience to reach and engage with, in North America the figure was 46%.
Some of the more developed European economies overwhelmingly saw digital transformation as a trend that could help their businesses. Over 80% feeling this way.
What is consistent in all the data that we have looked at is that executive search faces both a challenging and exciting future as leading international and boutique consultancies find ways to merge their substantial human skill sets with the right insights from the digital revolution.